2019 Reading Year in Review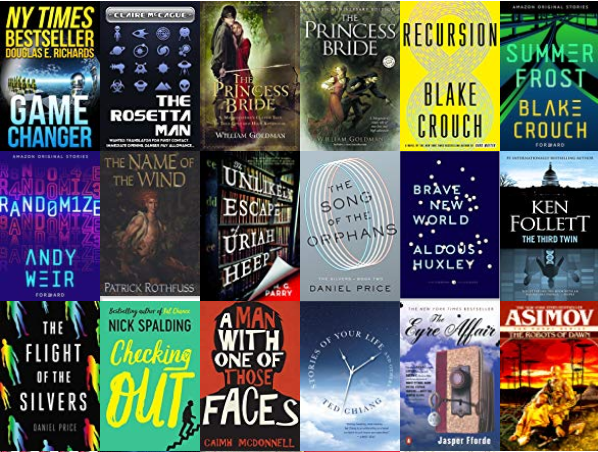 2019 was quite a year of reading for me. I easily completed my Goodreads Reading Challenge by reading 34 books, which beat my previous record of 33 books in 2018.
The Books
All the books I read in 2019, in order of date read:
Nomad, Matthew Mather
Americanah, Chimamanda Ngozi Adichie
Batman: Nightwalker, Marie Lu
Sanctuary, Matthew Mather
The Underground Railroad, Colson Whitehead
Way Station, Clifford D. Simak
American Gods, Neil Gaiman
A Man Called Ove, Fredrik Backman
Stranger in a Strange Land, Robert A. Heinlein
On the Come Up, Angie Thomas
The Invisible Library, Genevieve Cogman
Life, the Universe and Everything, Douglas Adams
Akata Witch, Nnedi Okorafor
The Last Firewall, William Hertling
Zeus Is Undead: This One Has Zombies, Michael G. Munz
Superman: Dawnbreaker, Matt de la Pena
The Sellout, Paul Beatty
The Robots of Dawn, Isaac Asimov
The Eyre Affair, Jasper Fforde
Stories of Your Life and Others, Ted Chiang
A Man With One of Those Faces, Caimh McDonnell
Checking Out, Nick Spalding
The Flight of the Silvers, Daniel Price
The Third Twin, Ken Follett
Brave New World, Aldous Huxley
The Song of the Orphans, Daniel Price
The Unlikely Escape of Uriah Heep, H.G. Parry
Randomize, Andy Weir
The Name of the Wind, Patrick Rothfuss
Summer Frost, Blake Crouch
Recursion, Blake Crouch
The Princess Bride, William Goldman
The Rosetta Man, Claire McCague
Game Changer, Douglas E. Richards
Fun Numbers
I read a total of 13,818 pages, with an average book length of 394 pages. The shortest book was 28 pages (Randomize, by Andy Weir), while the longest book was 748 pages (The Song of the Orphans, by Daniel Price).
I read 22 authors I hadn't read before, including Aldous Huxley, Chimamanda Ngozi Adichie, Neil Gaiman, Nnedi Okorafor, Patrick Rothfuss, and Ted Chiang.
I've currently been reading for 75 weeks consecutively. My longest daily streak of 2019 was 115 days.
Biggest Surprises
Sometimes I read a book simply because it's been steeply discounted or it's available on Prime Reading. I love it when I thoroughly enjoy these books. I got hooked on Daniel Price's Silvers series, and I can't wait until he releases the conclusion in 2020. Clifford Smoak had me wondering how I'd never heard of him; Way Station was absolutely riveting. But Fredrik Backman's A Man Called Ove was probably the biggest suprise of the year. It was heart-warming, tearful, and Ove is one of my favorite characters.
Biggest Disappointments
I read two books in 2019 that are considered sci-fi classics yet underwhelmed me. Robert Heinlein's Stranger in a Strange Land was interesting and thought-provoking, but ultimately filled with too much misogyny and racism for me to fully enjoy. Heinlein wasn't trying to be controversial—that I could have respected—but his language towards women and minorities were either a reflection of the times or his own personal biases and it ruined the book for me.
On the other hand, Aldous Huxley's Brave New World was intentionally controversial and disturbing. I was fascinated with the dystopia he created, until the book devolved into religious advocacy. Less disappointing, but disappointing nonetheless.
Favorite Book of 2019
Settling on a single favorite is always tough. I finally got around to reading The Princess Bride, and it's every bit as fun as the film adaptation. I love Isaac Asimov, and Robots of Dawn is no exception. I already mentioned my affinity for the Silvers series and Patrick Rothfuss' The Name of the Wind is the fantasy series I can finally get behind (sorry, Harry). Many others left a lasting impression, including The Sellout, Stories of Your Life and Others, and The Underground Railroad, but my favorite book of 2019 is…
A Man Called Ove by Fredrik Backman.
Not only was it a pleasant surprise, but it tugged at my heart strings, made me laugh, made me cry, and reminded me why I love to read.